THE DEVELOPMENT OF THE TRAVEL AND TOURISM INDUSTRY IN THE WORLD
Keywords:
development, travel, tourism, tourism industry, international tourism.
Abstract
The purpose of this paper is how the travel and tourism industry are changing and development in the world.Travel and tourism industry is one of the world's great industrial sectors. It drives economic growth, creates jobs, improves social development and promotes peace.Hundreds of millions of people around the world are dependent on the sector for their employment. In some island economies, travel and tourism industry is not just the biggest  employer, it is effectively the only employer. The role is to contributing to the creation of sustainable economies.Travel and tourism industry is a diverse sector consisting of millions of companies  and employers, from the biggest global travel brands to the smallest tour operator or hostel owner. Together we form a formidable force with a voice to be heard at the highest levels of society and government.
References
Cláudia Seabra and Elisabeth Kastenholz (2018), Peacefulness at home: impacts on international travel published on International Journal of Tourism Cities,
https://www.emeraldinsight.com/doi/abs/10.1108/IJTC-10-2017-0050
Florian Zach and T.L. Hill (2017), Network, knowledge and relationship impacts on innovation in tourism destinations, published on Tourism Management Journal,
https://doi.org/10.1016/j.tourman.2017.04.001
GlobalData (2018), Top 6 technology trends to watch out for in the travel and tourism industry in 2018, accessed November 8, 2018,
https://www.globaldata.com/top-6-technology-trends-watch-travel-tourism-industry-2018/
Haiyan Song and Gang Li (2018), Tourism and Economic Globalization: An Emerging Research Agenda published on Journal of Travel Research,
https://doi.org/10.1177/0047287517734943
ICAO (2018), Travel and Tourism a force for good in the world, accessed November 7, 2018,
https://www.icao.int/Meetings/iwaf2018/Documents/Travel%20and%20Tourism.pdf
Javaneh Mehran and Hossein Olya (2018), Progress on outbound tourism expenditure research: A review published on Current Issues in Tourism, https://doi.org/10.108/13683500.2018.1517734
Jing jing Li and Lizhi Xu (2018), Big data in tourism research: A literature review published on Tourism Management Journal, https://doi.org/10.1016/j.tourman.2018.03.009
Jorge Marques (2017), Tourism development strategies for business tourism destinations: Case study in the central region of Portugal (SCOPUS), published on Tourism: International Scientific and Professional Journal, https://hrcak.srce.hr/191475
Nikolaos Antonakakis and Mina Dragouni (2018), The Tourism and Economic Growth Enigma: Examining an Ambiguous Relationship through Multiple Prisms published on Journal of Travel Research, dx.doi.org/10.1177/0047287517744671
Rachata Channoi and Michael Clemes (2018), Development of a tourism coopetition model: A preliminary Delphi study, published on Journal of Hospitality and Tourism Management, https://doi.org/10.1016/j.jhtm.2018.10.004
Viorica Jelev (2016), Romanian tourism marketing researches, published on Annals of Spiru Haret University. Economic Series, http://anale.spiruharet.ro/index.php/economics/article/view/1634/pdf
World Economic Forum (2018), These three technology trends will change the way you travel, accessed November 10, 2018,
https://www.weforum.org/agenda/2018/06/three-technology-trends-changing-travel-tourism/
World Travel and Tourism Council (2018), Economic Impact 2018 World, accessed November 9, 2018,
https://www.wttc.org/-/media/files/reports/economic-impact-research/regions 2018/world2018.pdf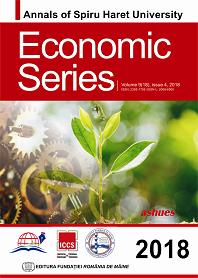 Downloads
How to Cite
Sofronov, B. (2018). THE DEVELOPMENT OF THE TRAVEL AND TOURISM INDUSTRY IN THE WORLD. Annals of Spiru Haret University. Economic Series, 18(4), 123–137. https://doi.org/10.26458/1847
Section
DOCTORAL AND POSTDOCTORAL PAPERS