MILLENNIALS: A NEW TREND FOR THE TOURISM INDUSTRY
Keywords:
millennials, travel, tourism, tourism industry, international tourism.
Abstract
The purpose of this paper is how millennials change and influencing the tourism industry and their importance for travel in the world.Having grown up with near-ubiquitous internet access and beginning their professional careers in the wake of a financial crisis, millennials are using technology to make savvy travel-buying decisions, largely based on the perceived authenticity of the experience they are offered.Millennials travel more than any other demographic. On average, they take 35 days of vacation each year, and they're also bucking the trend by increasing their annual travel spend as other generations intend to be more conservative with their cash.Millennial travelers are interested in authenticity, fulfillment and sustainability. That's a message that tour operators, travel agents and the entire travel industry needs to understand.The millennials represent 27 percent of the global population or about 2 billion people.
References
ATKearney (2018), Where are the Global Millennials?, accessed August 3, 2018,
https://www.atkearney.com/web/global-business-policy-council/article?/a/where-are-the-global-millennials-
Carlson Wagonlit Travel (2018), Millennials like to travel in groups - and are the most security conscious, accessed July 3, 2018,
https://www.carlsonwagonlit.com/au/en/news/news-releases/20171129-CWT-research--Millennials-like-to-travel-in-groups/
Crown Verity (2018), The Millennials and Catering In The Hospitality & Travel Industry, accessed July 5, 2018,
https://www.crownverity.com/the-millennials-and-catering-in-the-hospitality-travel-industry/
Fiz (2018), Millennial travellers and how they've changed travel for the better, accessed August 1, 2018, http://www.fiz.com/blog/travel-trends/millennial-travellers/
Gen C Traveller (2018), Travel and Tourism for the millennial generation, accessed July 4, 2018,
https://genctraveller.com/travel-and-tourism-for-the-millennial-generation/
LeadsCon (2018), 16 Statistics You Need to Know About Millennials and Money, accessed August 2, 2018, http://www.leadscon.com/16-statistics-you-need-to-know-about-millennials-and-money/
Rezdy (2018), Millennials: An In-depth Look into the Travel Segment, accessed July 2, 2018,
https://www.rezdy.com/blog/millennials-depth-look-travel-segment-infographic/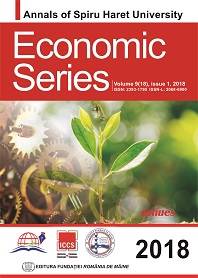 Downloads
How to Cite
SOFRONOV, B. (2018). MILLENNIALS: A NEW TREND FOR THE TOURISM INDUSTRY. Annals of Spiru Haret University. Economic Series, 18(3), 109–122. https://doi.org/10.26458/1838
Section
DOCTORAL AND POSTDOCTORAL PAPERS