IMPACT OF SUSTAINABLE TOURISM IN THE TRAVEL INDUSTRY
Keywords:
sustainable impact, sustainable tourism, tourism, travel industry, sustainability.
Abstract
Sustainable tourism is the concept of visiting a place as a tourist and trying to make only a positive impact on the environment, society and economy. A key aspect is respect for the people who call the location home, the culture and customs of the area, and the socio-economic system. While sustainable tourism is sometimes confused with ecotourism, ecotourism is actually only one aspect of sustainable tourism.Sustainable tourism is attempting to have a low impact on the environment and local culture, while helping to generate future employment for local people. The aim of sustainable tourism is to ensure that development brings a positive experience for local people, tourism companies and the tourists themselves.
References
Gaval, I (October 6, 2016), Retrieved from https://ecobnb.com/blog/2016/10/economic-benefits-sustainable-tourism/
Sustainability reporting in Travel and Tourism, (October, 2017), Retrieved from https://www.wttc.org/-/media/files/reports/policy-research/esg-2017/esg-2017-sustainability-reporting-in-travel-and-tourism.pdf
Sustainable Tourism (2017), Accessed November 1, 2017 http://greenfieldgeography.wikispaces.com/Sustainable+tourism
Sustainable Tourism, European Commission (2017), Accessed November 1, 2017 https://ec.europa.eu/growth/sectors/tourism/offer/sustainable_en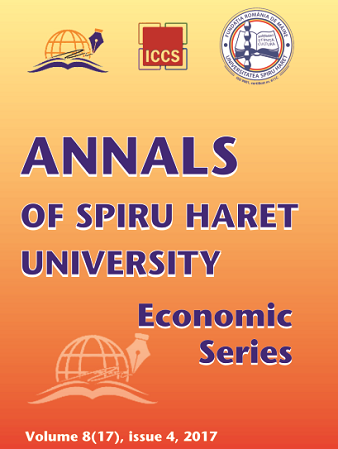 Downloads
How to Cite
Sofronov, B. (2017). IMPACT OF SUSTAINABLE TOURISM IN THE TRAVEL INDUSTRY. Annals of Spiru Haret University. Economic Series, 17(4), 85–94. https://doi.org/10.26458/1747
Section
DOCTORAL AND POSTDOCTORAL PAPERS