THE ROLE OF DEVELOPMENT OF TRANSPORT TURISM IN ECONOMIC GROWTH
Keywords:
Service, tourism, transport, industry, transport tourism, destination, economy, travel.
Abstract
Tourism is one of the necessary and very important sectors of country economy. Tourism has its appropriate inimitable characteristics that difference this sector from the other sectors. As to be in the other service industrial fields, in tourism sector the tourists come to the tourism destination place where the tourism services are supplied. To my observation and international experiences, it is hard to think of tourism industry without transportation. Transportation is  mean where to carry the tourists to the relevant place where tourism services are accomplished. The article contains detailed information about the introduction to the concepts of tourism, theoretical approach to the tourism as service industry, the role of transport in tourism development, international experiences in transport tourism, development of transport tourismin Azerbaijan economy. The article can be considered as a useful resource  for experts and researchers conducting research in this field.
References
M.Thea Sinclair and Mike Stabler, Economics of tourism.pdf, London, 2002, p.124
Barcet. A. (2010), "Innovation in services: a new paradigm and innovation model", in Gallouj, F. and Djellal, F. (Eds), The Handbook of Innovation and Services: A Multidisciplinary Perspective, Edward Elgar, Cheltenham, p. 51.
Singaporean Journal of business economics and management studies, The role of road transport in tourism industry development, Gilan Province, Vol.1, No 11, 2013, p.1
M. Jurcevic, P.Madunic, I. Tolusic: Relations Between Transport and Tourism- Croatia's Possibilities, Promet- Traffic & Transportation, Vol. 18, 2006, No. 5, p.369
Lohmann, G. and D. G. Pearce (2012). "Tourism and transport relationships: the suppliers' perspective in gateway destinations in New Zealand." Asia Pacific Journal of Tourism Research 17(1): p. 14-29.
A Report from the University of Vermont Transportation Research Center, Sustainable Transportation for Tourism: Indicators and Standards, 2013, p.28
M. Jurcevic, P.Madunic, I. Tolusic: Relations Between Transport and Tourism- Croatia's Possibilities, Promet- Traffic & Transportation, Vol. 18, 2006, No. 5, p.369-378
Griffith University, Tourism and transport relationships: the suppliers' perspective in gateway destinations in New Zealand, 2012, p.4
Aubrey C. King, Relationships between transportation and tourism: interaction between state departments of transportation and state tourism offices, 2007, p.3
Rapid Tourism Assessment for the Azerbaijan Tourism Sector Development Program, Citizens Development Corps, OSCE, 2004, p.3
CEST Policy Report on Tourism Sector in Azerbaijan, Baku 2011, p.3
http://www.inboundtourism.com.au/article_three.html
https://en.wikiversity.org/wiki/Tourism/Introduction
https://www.wto.org/english/tratop_e/serv_e/tourism_e/tourism_e.htm
http://www2.unwto.org/technical-product/quality-standards-tourism-services
www.world-tourism.org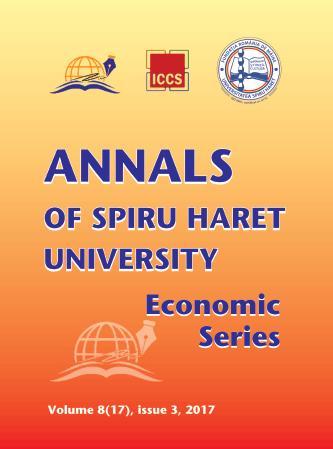 Downloads
How to Cite
Alasgarova, F. (2017). THE ROLE OF DEVELOPMENT OF TRANSPORT TURISM IN ECONOMIC GROWTH. Annals of Spiru Haret University. Economic Series, 17(3), 85–92. https://doi.org/10.26458/1737