The strategic marketing planning – General Framework for Customer Segmentation
Keywords:
strategic planning, marketing strategy, customer segmentation, marketing mix, optimisation
Abstract
Any approach that involves the use of strategic resources of an organisation requires a responsible approach, a behaviour that enables it to properly integrate itself into the dynamic of the business environment. This articles addresses in a synthetic manner, the issues of specific integration efforts for customers' segmentation in the strategic marketing planning. The essential activity for any organisation wishing to optimise its response to the market, the customer segmentation will fully benefit from the framework provided by the strategic marketing planning. Being a sequential process, it not only allows time optimisation of the entire marketing activity but it also leads to accuracy of the strategic planning and its stages.    
References
Allison Michael, Kaye Jude (2005), Strategic Planning for Nonprofit Organizations, second edition, New Jersey: John Willey & Sons Inc.
Bondrea A. Aurelian, Gârdan Daniel Adrian, Geangu Iuliana Petronela (2010), The role of strategic planning in relationship marketing, Annals of Spiru Haret University, Economic Series, vol. 1, issue 4, pp. 53-60.
Blythe Jim, Megicks Phil (2010), Marketing planning: strategy, environment and context, Pearson Education Limited, Harlow.
Cetină Iuliana (coord.) (2009), Marketingul serviciilor. Fundamente şi domenii de specializare, Editura Uranus, Bucureşti.
Dumitru Ionel (2004), Marketing strategic. O abordare în perspectiva globalizării, Bucureşti, Uranus.
Florescu Constantin, Mâlcomete Petre, Pop Al. Nicolae (2003), Marketing – dicţionar explicativ, Editura Economică, Bucureşti.
Gârdan Daniel Adrian (2011), The new perspectives in relationship marketing conceptualization, Annals of Spiru Haret University, Economic Series, vol. 2(11), issue 4, pp. 81-9.
Jain C. Subhash (2000), Marketing Planning and Strategy, 6th edition, South-Western College Publishing.
Jenkins Mark, McDonald Malcolm (1997), Market segmentation: organizational archetypes and research agendas, European Journal of Marketing, vol. 31, nr. 1, pp. 17-32.
McDonald Malcom (2008), Malcom McDonald on Marketing Planning, London: Kogan Page.
McDonald Malcom, Dunbar Ian (2004), Market Segmentation - How to do it, How to profit from it, Elsevier Butterworth-Heinemann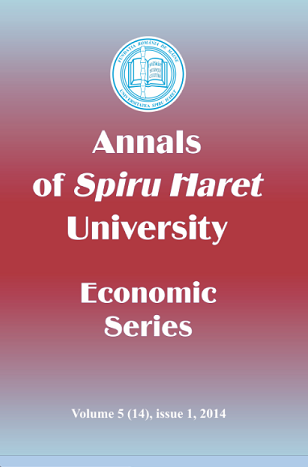 Downloads
How to Cite
OPRESCU, A. E. (2014). The strategic marketing planning – General Framework for Customer Segmentation. Annals of Spiru Haret University. Economic Series, 14(1), 49–58. https://doi.org/10.26458/1416