New perspectives in relationship marketing conceptualization
Keywords:
relationship marketing, postmodern consumer, strategic partnerships, consumer brands basket
Abstract
Relationship marketing represents a concept that has been disputed in the last 15 years as being a true paradigm of marketing thinking, or just a new method to apply marketing techniques to the new requirements and transformations into the socio-economic field of contemporary economy. Developing the conceptualization of relationship marketing has involved a wide area of research both in the theoretical and practical background. But despite many controversies about how to apply relationship marketing, at a profound level, the openness to new modalities for managing relationships with consumers, in the context of developing a new type of consumer – the postmodern consumer – is one of the undeniable strengths of relationship marketing.The present article is trying to capture some of the possible directions of development of relationship marketing techniques considered by the author as being a kind of future trends of this complex scientific approach. In a brief we consider as appropriate for companies in the consumer markets to develop relationship marketing strategies around the concept of "consumer personal brands basket". Considering this, every company should try to put together strategic resources and develop common activities with other producers from the brands basket for a certain consumer. Due to the technological development and diminishing costs for management of large and complex consumer databases, developing such a strategic orientation could be not only an illusion but a simple solution for consumers and tomorrow's competitive environment.
References
Baker, Michael J. The marketing book, fifth edition. Oxford: Elsevier Butterworth – Heinemann, 2005.
Berry Leonard T., Shostack Lynn G., and Upah Gregory D. "Emerging Perspectives on Service Marketing". American Marketing Association Proceeding Series, Chicago, 1983.
Buttle, Francis B. Relationship marketing theory and practice. London: Paul Chapman Publishing, 1996.
Firat, Fuat A., and Venkatesh, Alladi. "Liberatory postmodernism and the re-enchantment of consumption", Journal of Consumer Research, 22 (1995): p. 239-267 (JSTOR 2489612).
Gummesson, Evert. Total relationship marketing: rethinking marketing management from 4Ps to 30Rs, Oxford: Butterwoth Heinemann, 1999.
Grönroos, Christian. Service Management and Marketing. 3rd ed., West Sussex: John Wiley & Sons, Ltd., 2007.
Hunt Shelby D., and Morgan Robert M. "Relationship marketing in the era of network competition", Journal of Marketing Management, 3, 1 (1994): p. 19-23.
Parvatiyar, Atul, and Sheth, Jagdish N. The domain and conceptual foundations of relationship marketing, in Handbook of Relationship Marketing, Thousand Oaks CA: Sage Publications, 2000: p 3-38.
Peppers Don, Rogers Martha, and Dorf Bob. "Is your company ready for one-to-one marketing?", Harward Business Review, (January 1999): p. 151-160.
Peppers Don, and Rogers Martha. The One to One Future: Building Relationships One Customer at a Time, New York: Doubleday, 1993, p. 207-260.
Rodriguez Abraham Rodriguez, Garcia Nicolas Iglesias, Quinteiro-Gonzalez Jose Maria. Modelling the Psychographic Behaviour of Users Using Ontologies in Web Marketing Services, LECTURE NOTES IN COMPUTER SCIENCE, Volume 6927, 2012, DOI: 10.1007/978-3-642-27549-4, p. 121-128.
Maxim, Andrei. "Relationship Marketing – A New Paradigm in Marketing Theory and Practice", Analele ştiinţifice ale Universităţii "Alexandru Ioan Cuza", Iaşi: Ştiinţe Economice, LVI (2009): p. 287-300.
Sorce, Patricia. Relationship Marketing Strategy, A Research Monograph of the Printing Industry Center at RIT, New York: Printing Industry Center at RIT, september 2002: p 7.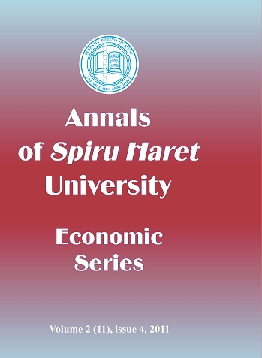 Downloads
How to Cite
GÂRDAN, D. A. (2011). New perspectives in relationship marketing conceptualization. Annals of Spiru Haret University. Economic Series, 11(4), 81–89. Retrieved from http://www.anale.spiruharet.ro/economics/article/view/1147