Mobile marketing future trends
Keywords:
mobile marketing, long term evolution, broadband, brand awareness, consumer attitude
Abstract
The present article proposes an introspection into the field of a new marketing specialization – mobile marketing. The concept mainly refers to all marketing activities related to the new communication channel – Short Message Service, Multimedia Messaging Service, and internet access from mobile phone. The article provides, at the same time, a marketing perspective about future trends of mobile marketing and mobile media, and also a technical perspective related to the future mobile communication technologies in the field – the LTE (Long Term Evolution) – cellular communication system optimized to support packet-switched data services to enable mobile broadband.The conclusions of the article focus on the relevance of mobile marketing, techniques efficiency related to brand promotion, changing consumers attitude and the development of such techniques imposed by the new mobile communication system.
References
· Aaltonen Aleksi (2010): Making Up Mobile Advertising Audience, proceedings 3rd Latin American and European Meeting on Organization Studies (LAEMOS), 7–10 April 2010, Buenos Aires.
· Aaker J.L., Benet-Martinez V. et Garolera J. (2001), Consumption Symbols as Carriers of Culture: A Study of Japanese and Spanish Brand Personality Constructs, Journal of personality and social psychology, vol. 81, no. 3, p. 492-508.
· Barwise, P., Elberse A., and K. Hammond (2002), Marketing and the Internet, in Working Paper, Future Media Research Programme, London Business School, London http://www.london.edu/marketing/Future/future_media_research_projects/Untitled/internet/ATI_1.3.pdf >.
· Barutçu, S., (2007), Information Technology, Mobile Marketing and Mobile Commerce in Consumer Markets, 3rd International Conference on Business, Management and Economics, June 13-17, Yaşar University, İzmir, Turkey.
· Bouhlel O., Mzoughi N., Hadiji D., Slimane I. Ben, (may 2009), Brand Personality and Mobile Marketing: An Empirical Investigation, World Academy of Science, Engineering and Technology, Proceedings, Tokyo, Japan, issue 53, pp. 703-710, http://www.waset.org/journals/waset/v53/v53-113.pdf.
· Carroll, J., Howard, S., Peck, J., Murphy, J. (2002), A Field Study of Perceptions and Use of Mobile Telephones by 16 to 22 Year Olds, The Journal of Information Technology Theory and Application, Vol. 4, No. 2, pp. 49-61.
· Clifton, R. (2002), Brands and Our Times, Journal of Brand Management, vol. 9, no. 3, pp. 157-161
· Dickinger Astrid, Haghirian Parissa, Murphy Jamie, Scharl Arno, (2004), An Investigation and Conceptual Model of SMS Marketing, Proceedings of the 37th Hawaii International Conference on System Sciences.
· Fritze Gerhard Dipl.-Ing. M.Sc. (2008), Customer Solution Manager Ericsson Austria GmbH, SAE – The Core Network for LTE, Erricson Press Report
· Fujita Akihisa, (2008), Mobile Marketing in Japan: The acceleration of Integrated Marketing Communications, Journal of Integrated Marketing Communications, North Western University, pp. 41-46.
· Gyozo Gidofalvi, Hans Ravnkjaer Larsen, Torben Bach Pederse (2008), Estimating the capacity of the Location-Based Advertising Channel, International Journal of Mobile Communications, vol. 6, no. 3, pp. 357-375.
· Hans H. Bauer, Stuart J. Barnes, Tina Reichardt, Marcus M. Neumann, (2005), Driving Consumer Acceptance of Mobile Marketing: A Theoretical Framework and Empirical Study, Journal of Electronic Commerce Research, vol. 6, no.3, pp. 181-192.
· Hanson, Ward (2000), Principles of Internet Marketing, South-Western College Publishing, Cincinnati.
· Hee-Woong Kim, Hock Chuan Chan, Sumeet Gupta, (2007), Value-based Adoption of Mobile Internet: An Empirical Investigation, Decision Support Systems 43, p. 111-126.
· Heinonen Kristina, Strandvik Tore (2007), Consumer Responsiveness to Mobile Marketing, International Journal of Mobile Communications, vol. 5, no. 6, pp. 603-617.
· Kai Wehmeyer (2007), Mobile Ad Intrusiveness – The Effects of Message Type and Situation, 20th Bled eConference eMergence: Merging and Emerging Technologies, Processes, and Institutions June 4-6, 2007, Bled, Slovenia.
· Matti Leppäniemi and Heikki Karjaluoto, (2005), Factors Influencing Consumers' Willingness to Accept Mobile Advertising: A Conceptual Model, International Journal Mobile Communications, vol. 3, no. 3, pp. 197-213.
· Melody M. Tsang, Shu-Chun Ho, and Ting-Peng Liang (2004), Consumer Attitudes Toward Mobile Advertising: An Empirical Study, International Journal of Electronic Commerce, vol. 8, no. 3, pp. 65-78.
· Pagani Margherita (2004), Determinants of Adoption of Third Generation Mobile Multimedia Services, Journal of interactive marketing, vol. 18, no. 3, pp. 46-59.
· Payne Adrian, Frow Pennie (2005), A Strategic Framework for Customer Relationship Management, Journal of Marketing, vol. 69, no. 4, pp. 167-176.
· Pousttchi, Key; Wiedemann, Dietmar Georg, 2005, A Contribution to Theory Building for Mobile Marketing: Categorizing Mobile Marketing Campaigns through Case Study Research, Journal of Electronic Commerce Research, Vol. 6, no. 3, pp. 160-164.
· Scharl, Arno., Dickinger Astrid., Murphy Jamie, (2005), Diffusion and Success Factors of Mobile Marketing, Electronic Commerce Research and Applications, vol. 4, no. 2, pp. 159-173.
· *** (2000). First-to-Wireless: Capabilities and Benefits of Wireless Marketing and Advertising Based on the First National Mobile Marketing Trial, WindWire Inc., Morrisville NC.
http://www.imapproject.org/imapproject/downloadroot/public3/ftw_report.pdf.
· Yoon, S.J., and Kim, J.H. (2001), Is the Internet More Effective than Traditional Media? Factors Affecting the Choice of Media. Journal of Advertising Research, vol. 41, no. 6, pp. 53-60.
· Teo T.S.H., Pok Siau Heong (2003), Adoption of WAP-Enabled Mobile Phones among Internet Users, The International Journal of Management Science, Omega, vol. 31, pp. 483-498, http://www.bschool.nus.edu.sg/staff/bizteosh/TeoPokOmega2003WAP.pdf.
· Scornavacca Eusebio, Barnes Stuart J, Huff Sid L., (2005), Mobile Business Research, 2000-2004: Emergence, Current Status, and Future Opportunities, 13th European Conference on Information Systems, Information Systems in a Rapidly Changing Economy, ECIS 2005 Proceedings, Regensburg, Germany, May 26-28, 2005, Paper 59.
· Tähtinen Jaana, Salo Jari (2004), Special Features of Mobile Advertising and their Utilization, Proceedings of the 33rd EMAC Conference, 18-22.5.2004 (CD), Murcia, Spain.
· Zoller, Eden; Housen, V.L.; Matthews, J. (2001), Wireless Internet Business Models: Global Perspective, Regional Focus. OVUM 2001 Report, Ovum Ltd, London, ISBN-10: 1902566858, pp. 1-64.
· www.mobileyouthreport.com.
· www.comscore.com.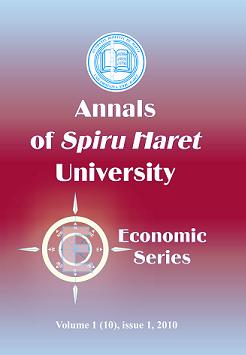 Downloads
How to Cite
CĂTOIU, I., GÂRDAN, D. A., & GÂRDAN, D. L. (2010). Mobile marketing future trends. Annals of Spiru Haret University. Economic Series, 10(1), 11–22. Retrieved from http://www.anale.spiruharet.ro/economics/article/view/1011